Results of elections for members of the European Parliament of 4 June 2009
The turnout at the election for the European Parliament was, with 36.9%, a bit lower than at the previous election in 2004, when the turnout was 39.26%. Of the 12,378,500 voters, 4,573,743 persons cast their votes on Thursday, 4 June. Of these 4,553,864 were valid, non-abstentious votes. 10,013 persons abstained from voting and 9,866 votes were invalid.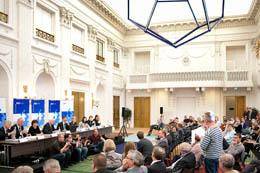 Total number of votes and electoral quotient
The total number of valid, not-abstentious votes amounts to 4,553,864 votes. There are 25 seats to be distributed. The electoral quotient therefore amounts to 182,154 14/25 votes; the preference threshold is at least 10 % of this number, therefore 18,216 votes.