Minister of the Interior evaluates House of Representatives elections
The House of Representatives elections of 12 September 2012 transpired smoothly. Thus Mr Plasterk, Minister of the Interior and Kingdom Relations, in his evaluation of the said elections. However, basing himself on research carried out, he did conclude that there was an insufficient number of polling stations with easy access for people with disabilities. The Minister also pointed to incidents concerning the production and delivery of voting passes.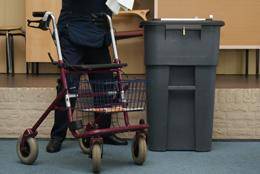 For the first time, residents of the islands of Bonaire, Sint Eustatius and Saba were able to participate in the House of Representatives elections. The Minister noted that the turnout in this constituency was significantly lower (23.8%) than in the Netherlands as a whole (74.6%). The Minister also notes that fewer parties took part in the Caribbean Netherlands (15) than in the rest of the Netherlands (20 or 21). In order to accommodate the political parties, he proposes to reduce the number of declarations of support required to ten for this electoral district. This proposal by the Minister is in accordance with the advice rendered by the Electoral Council.
Voters outside of the Netherlands
The number of voters casting their votes from abroad has increased only slightly (by 4%). This in spite of efforts to stimulate voter turnout among this group. However, thus the minister, it is noteworthy that the number of invalid votes among these voters decreased considerably.
Voting by proxy
In his review, Minister Plasterk addresses the Organisation for Security and Cooperation in Europe (OSCE) observation mission's criticism of the practice of voting by proxy in the Netherlands. The OSCE fears this practice contributes to restricting the voting freedom of, in particular, women (and especially women from a migrant background), and may lead to attempts to persuade people to surrender their polling cards. Research conducted at the bequest of the Minister into voting by proxy 'does not substantiate the position put forth by the OSCE'. The Minister will, however, follow the Electoral Council's advice to start recording the number of proxy votes in the official report issued by the principal and central electoral committee.