Recommendations of the Electoral Council following the 2014 municipal council and European Parliament elections
The Electoral Council advises the Minister to have the Electoral Act explicitly prohibit the making of 'boothies', photographs voters make of themselves holding their ballot paper in the polling booth. The Council argues that the 'boothie' is at odds with the principles of the freedom and the secrecy of the vote. Every possibility of voters being pressured or coming to feel pressure to vote for a specific party and/or candidate and show proof thereof must be prevented. This is one of the recommendations suggested by the Council in its advisory evaluation of the 2014 municipal council and European Parliament elections.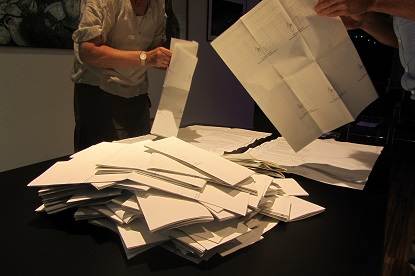 No appreciable problems were encountered during the recent municipal council and European Parliament elections. Nevertheless, the election process can be improved on a number of points. Such improvements can be partly achieved by amending the applicable legislation, and partly through better communication between and instructions to, in particular, municipalities, political parties, polling station officials and voters.
Electoral treating of proxy votes
In the run-up to the municipal council elections a few cases of the possible electoral treating of proxy votes were encountered. Further investigation by the Electoral Council of the municipalities and polling stations in which a remarkably high number of proxy votes were cast revealed that the primary cause of these anomalies was to be found in the demographic composition of the electoral districts in question. None of the responses included a suspicion that irregularities, such as the electoral treating of proxy votes, took place. The Electoral Council expects to be able to complete its investigation into the application of the penalty provisions in the Electoral Act by the end of 2014.
Further recommendations
Further recommendations by the Electoral Council include amending the legislation on the recounting of votes, raising the number of declarations of support required for a candidate to be nominated for the elections to the European Parliament from 30 to 580, clarifying the explanation of granting proxy by transfer of the poll card as stated on the poll cards, and providing better instructions on filming the vote counting process.