Announcement of the results of the referendum on the Association Agreement with Ukraine
The Electoral Council, acting as the central electoral committee, will determine the official results of the referendum on the Association Agreement with Ukraine in a public session held on Tuesday, 12 April, at 16:00, in the Nieuwspoort centre. This session can be witnessed remotely via the Nieuwspoort livestream (http://www.nieuwspoort.nl/live/). On the evening of the election day, 6 April, preliminary, non-official results are presented in the media.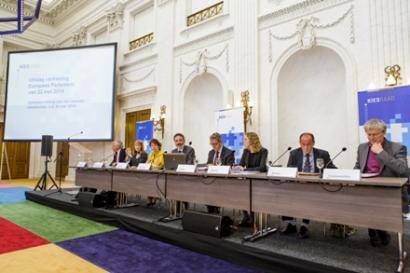 The 20 principal electoral committees will determine the total number of votes cast in their electoral district in a public meeting two days after the election. Official reports will be made of each of these sessions and published by the Electoral Council on its website on the afternoon of Friday, 8 April. The Electoral Council will then proceed to calculate the results of the referendum on the basis of these official reports of the principal electoral committees.
Public session Electoral Council
In its public session, the Electoral Council will present the voter turnout figure, the numbers of voters having cast a vote in favour of or against the Association Agreement, the amounts of valid and invalid votes and the amount of abstentions, amongst other figures. Following this session, the referendum results will be published (in MS Excel format) on the Electoral Council's website.